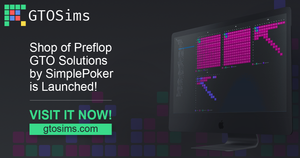 Welcome to GTOSims.com! We are opened NOW
We are in a hurry to inform you about the official opening of our website GTOSims.com!
Our site is dedicated to the most qualitatively calculated optimal preflop strategies in various poker games and disciplines. Every effort has been made to create the store so that you get the highest quality solutions.
What is the secret to the quality of our preflop solutions?
Game trees are designed by professional players and people with tremendous experience in GTO calculations. For some games, several variants of game trees are presented so that you can find the most suitable variant for you, for a more convenient postflop playing of your preflop strategy. The trees are designed in such a way that they include significant sizings that affect the strategy, while not including redundant branches to achieve more accurate calculation results.
For calculating GTO strategies, cutting edge solver 

Simple Preflop Holdem

 was used, with the most advanced and 

unique bucketing (postflop abstractions)

 on the market, which allows to calculate complex trees with the highest accuracy. All trees were calculated over a very large number of iterations to ensure equilibrium was achieved. Some complex trees were divided into subtrees for a more accurate calculation of rare branches and then glued together programmatically.
Each solution for your convenience is provided simultaneously in three formats:
in the Simple Preflop Holdem calculated file format (.bin); this file can be opened even in the free version of the program and view strategies using all the functionality of the program
in pio solver format (PioCharts); this format is "opened" and acessible programmatically
in PNG screenshots of charts format, structured by folders in accordance with game trees
At the start of our project, we present you 3 sections with GTO solutions:
Spin&Go

 - strategies for both 3-max and HU situations are presented. 3-Max strategies are designed for both identical and asymmetric stacks. In this section you will find a preflop strategy for almost any situation in Spin&Go.

6-Max Cash

 - strategies are designed for various game limits and rake structures (PokerStars and GG Poker rooms), as well as for the chipEV model. Trees are presented with different sizing options

6+ Holdem / ShortDeck

 - strategies are designed with both rake and chipEV models, for a different number of players
---